Eyelet Button hole Machine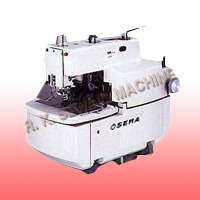 Eyelet Button hole Machine
Product Description
Eyelet Button hole Machine
Model No- SR-299U1350

Our company is well known distributor and supplier for eyelet buttonhole machines that are very popular among apparel manufactures. We can offer wide range of eyelet buttonhole machines. Eyelet buttonhole machines can sew all types of buttonholes with or without the gimp thread including round eyelets. Customers can choose different eye shapes, thread trimming and buttonhole size and cutting. Our new generation of an eyelet buttonhole machine combines excellent traditional buttonhole quality with new revolutionary design, four patented mechanisms, large full color display and currently the highest sewing speed in the market. Our offered eyelet buttonhole machine was specially designed for buttonhole applications on mens suit where both lapel and jacket front buttonholes are sewn and cut in one sewing sequences without changing any knives or cutting blocks.
Features :
* Fine finishing of button holes.
* Max. sewing speed 2,000 sti/min improves productivity.
* Large arm pocket allowing smooth material handling.
* Easy-to-use operation panel.
General Applications:
Buttonholing
General Specifications:
Lubrication: Direct Into easily accessible Oiling points Under driver has Oil reservoir.
Needle Cat No. 1413-01
Needle bat stroke; 1 11/32 (34.1mm)
Clamp lift: 3/8'' (9.5mm) regular machine and (12.7mm) special machine
Max SPM: 2000 (speed depends on material and type of operation)
Bad dimensions
Length: 21 (533mm)
Width; 15 (394mm)
Height: 18 1/2(470mm)
Space to rear of noodle: 3 5/16(83mm)
Motor required: Singer continuous running motor 1/3 HP.