Bartack Sewing Machine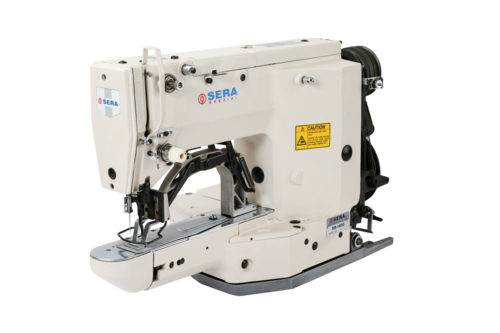 Bartack Sewing Machine
Product Description
Bartacking Sewing Machine- SR-1850
Bartack is a series of hand or machine made stitches used for reinforcing areas of stress on a garment, such as pocket openings, bottom of a fly opening or buttonholes. It consists of a series of close-set zig-zag stitches (machine) or whip stitches (hand), usually 1/16"-1/8" in width and 1/4"-3/8" in length.
This series sewing machine's starting, stopping, thread-trimming and automatic presser lifting mechanism have been improved significantly. The needle's penetrating force into the material has been increased. This provides neat, harmonious seam an improved responsiveness to heavy-weight materials. Short, cut thread ends. Adjustment of tack length and tack width made easy with concentrated lubricating. Bar tacking for various kinds of clothing such as Jeans, Suits, Work wear and Children clothes.
Bartacking Sewing Machine works in a cycle and so these are called simple automatic machine. Bartack means to increase strength of small length of fabric by sewing on it and then by repeating it. For example belt loop, opening of pocket. It is a simple automatic machine which produces stitches in a cyclic order.
Features:

* Bartack sewing machine provides forward and backward stitching in short length (about 6 cm) and sew a dense track.
* Beautiful sewing and easy to adjust sewing functions
* Stable sewing quality with Digital Tension
* Overwhelmingly superior productivity with the world's fastest cycle time
* High energy saving

Uses of Bartack Sewing Machine in Apparel Sewing:

* Bar Tracking Sewing Machine is used to secure pocket corners, belt loops, the open end of a button hole, zipper flies.
* Bar Tracking Sewing Machine is also used for small decorative tracks and shapes.