Single Needle Lockstitch Flatbed Machine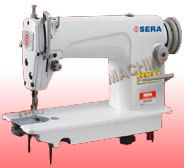 Single Needle Lockstitch Flatbed Machine
Product Description
Single Needle Lockstitch Flatbed Machine -
Model No:SR-8900

Single Needle Lockstitch Flatbed Sewing Machine is a new generation model which is designed for a quite and smooth performance, delivering improved seam quality, wider operable room and great reliability. Single Needle Lockstitch Flatbed Sewing Machine is used for stitching light and moderately heavy material.
This series of Single Needle Lockstitch Sewing Machines are designed for sewing top collar to under collar with adjustable highly operated knife mechanism, the machine helps promote the production of upgraded-quality products while increasing efficiency. This Single Needle Lockstitch Flatbed Sewing machine is equipped with Edge Trimmer. The knife is capable of cutting any kind of material regardless of its thickness or toughness, including heavy- weight material, elastic material and brushing material. High quality no displacement of the under collar Felt. Suitable for sewing shirts especially for Collar, Brassieres and Suites
Features :
* High speed
* High efficiency
* beautiful stitch nest and even edge-cutting
* sewing and edge-making can be completed wonderfully
* Suitable for sewing various shirts, suits, especially for collar, front of garment etc.
We are a leading distributer & supplier of Single Needle Lockstitch Flatbed Machine.
This Series of Flatbed Lockstitch Sewing Machines has improved link-lever feed system, link-type thread take up lever & rotary hook to provide neat seam formation. Needle feed mechanism synchronously moves with lower drop feed, ensures fine and non-twisted seams from slippery of difficult to feed materials. Single Needle Lockstitch Flatbed Machine is use in all branches of the sewing industry. The best design technology created the optimum balance and highly rigid machine head, could reduce the vibration and noise. The machine could provide the operator with a comfortable work environment. Suitable for sewing Shirts, Jackets, Suits, Over-coats, Bed covers, Curtains, Children's clothes, Bags, Leather, Wool, Chemical fiber and Canvas.

Desirable features of Single Needle Lockstitch Flatbed Machine :
Low noise
Low vibration
Automatic lubricating system
Smooth and quiet running
Easy maintenance
Increase the durability of machine
Smooth feeding for uniform stitches whether in forward / reverse feed system.
Model Name
Application
Max. Sewing Speed
Max. Stitch length
Needle Bar Stroke
Lift of the presser foot
Needle Size
Hook
Lubrication
SR-8500 N
SR-8700 N
For light-medium weight materials
5,500 spm
5 mm
30.7 mm
By hand : 5.5 mm By knee: 13 mm
DBX1 (#9~16)
Automatic lubricating full rotary hook
Automatic
SR-8500 NH
SR-8700 NH
For heavy weight materials
4,000 spm
5 mm
35 mm
By hand : 5.5 mm By knee: 13 mm
DBX1 (#18~21)
Automatic lubricating full rotary hook
Automatic