Cylinder Bed Interlock Machine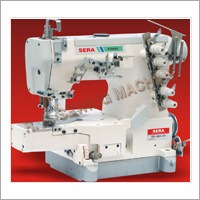 Cylinder Bed Interlock Machine
Product Description
In the industry, we are well recognized importer and supplier of superior quality Cylinder Bed Interlock Machine. Offered machine made utilizing updated technology available and quality approved spare parts at vendors' in-house facility. It comes with and without puller and has auto oiling system for ensuring sufficient lubrication with cartridge oil filter push bottom type sewing length regulator with simple micro adjustment of differentials breakage and skip sewing. Our offered Cylinder Bed Interlock Machine is ideal for ladies briefs, knit under wear, sportswear and swim wear to medium weight material.

Features:

It can be fitted different accessories to suit for different work.
This machine is having new kind needle bar oil-back system, due to which, no possibility of oil leakage.
The machine is Needle bar transmission structure adopt all-sealed design, more easier and safe to keep clean.
It has fully automatic supply system and oil-filter device that ensure the max stitching speed to be 6000r.p.m.
Our Interlock machine with Automatic device comprising: Back-hanging mini servo motor, foot lifter device and pneumatic and electronic up/down automatic trimmer device. Easy to operate, it can improve the efficiency and quality of sewing work.
Model Name
Application
Number of Needle
Max.Sewing Speed
Max.Stitch Length
Needle Gauge
Needle Size
Lift of
Presser Foot
Lubrication
Diff.Feed Ratio
SR-664
Light to medium
weight material
2
6,000 spm
4mm
4 mm
DV x 43(#9-~#14)
5 mm
Fully Automatic
0.6~ 1.3
SR-664P
Light to medium
weight material
2
5,000 spm
4mm
4 mm
DV x 43(#9-~#14)
5 mm
Fully Automatic
0.6~ 1.3