Arka Picot and Fagoting Sewing Machine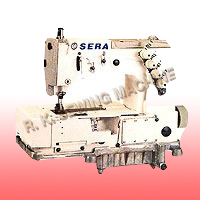 Arka Picot and Fagoting Sewing Machine
Product Description
We are a well-known Importer and Supplier of Arka Picot and Fagoting Sewing Machine in India. We bring forth a wide range of Picot and Fagotting Sewing Machines . We procure our Picot and Fagotting Sewing Machine from the reliable vendors in the market.

This series of Zig Zag Industrial Sewing Machines is useful for forming decorative zigzag stitching to any number of various clothes and items such as women's under garments, children's wear, scarf, kerchiefs, table clothes and pillow cases. The differential feed mechanism makes this machine ideal for decorative stitching on wide range of fabrics light to medium weight.
SPECIAL FEATURES:

Parallel and vertical needle bar movement, the needle can insert the sewing material entirely and vertically, strong impalement power of needle; it can ensure the exact and elegant stitches.

Adopt special big specification hook that improve the work efficiency.

Adopt separate & semi-automatic lubricating-systems, permanent lubrication & seal bearing, so that it can improve the use life of parts.